2C NEED TO KNOW Campaign Ideas
HOW TO RUN A CAMPAIGN
The Drop it Youth Campaign, a global Campaign empowering students to take action on plastic pollution. These materials serve as a base to customise and advertise awareness activities to the school or adapt them to specific needs.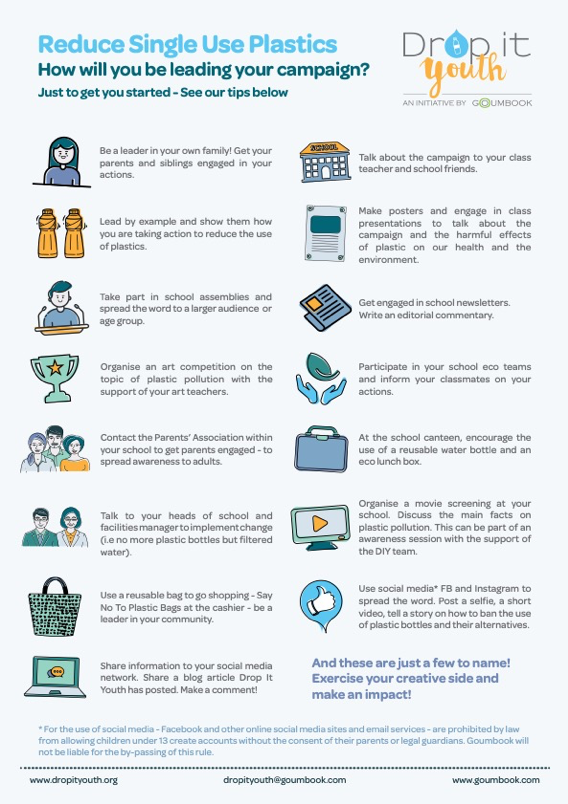 FRAMING THE NARRATIVE
Why are we changing out plastics?
There are three main reasons to change out of plastics:
Human Health

The Environment

Social Justice
It is important to show the cause and effect of plastics on human health, social justice and the environment. Posters can be created showing local examples and products.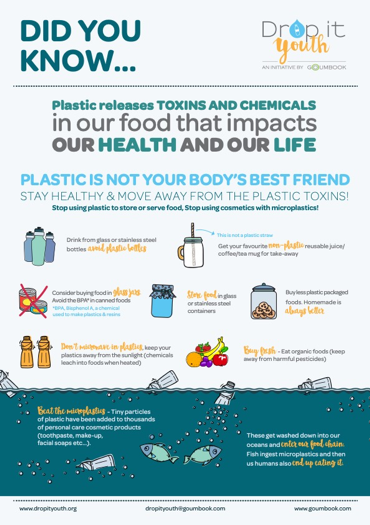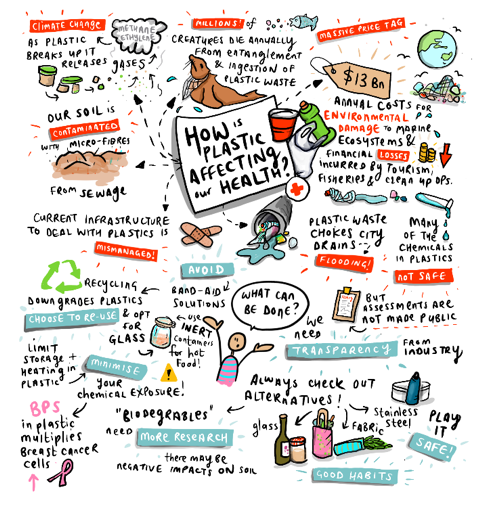 HOSTING EVENTS
Here are some ideas for hosting events to raise awareness about plastics and support for future Plastic Free Campus projects. Everyone Is encouraged to use creativity to come up with differing event ideas!
Here is some action taking place worldwide to inspire ideas

Waste Free Lunch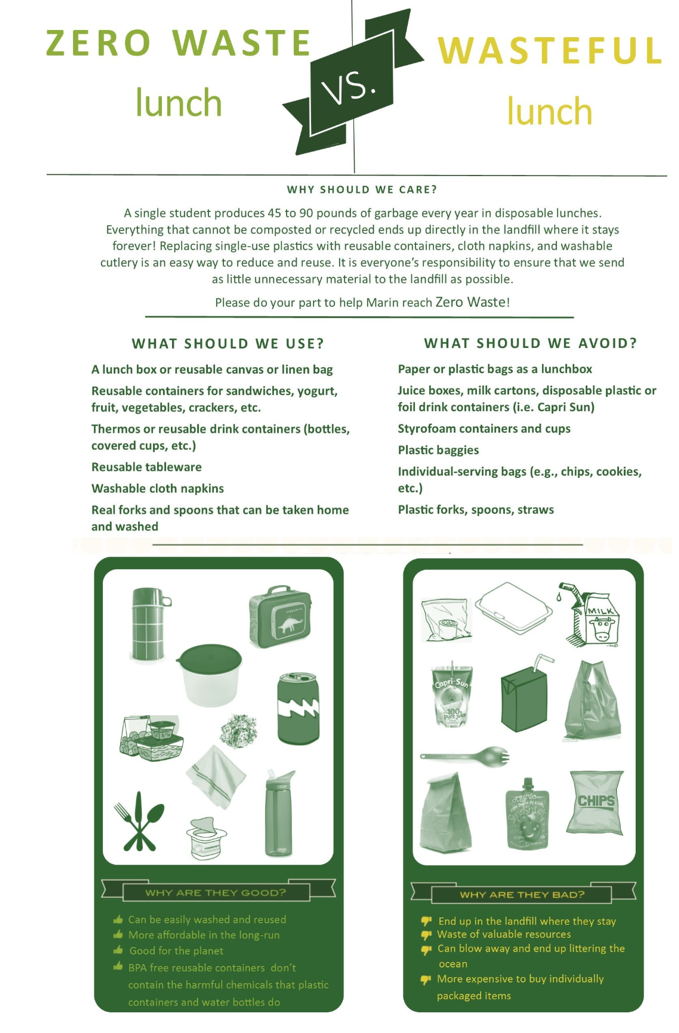 Dedicate a "waste free lunch" day each week or month, to encourage everyone to bring their own packed lunch without single-use plastics.
Parents can use tips from the plastic-free living workshop described in Module 3: Home.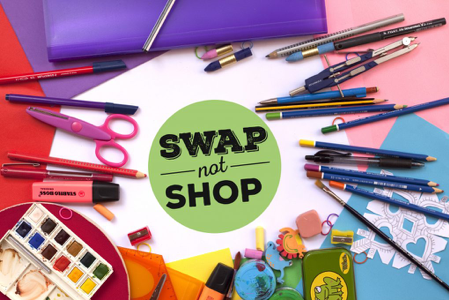 School Supply Exchange
· Each month host a school supply swap for paper, supplies, sports clothes and more.
· Or, dedicate an area in school where people swap something they no longer need for something they do.
That way, money and resources are saved!
This should be done in the first few days/weeks of school, when most people buy new school supplies and books
If the school procures these supplies this could help reduce or replace plastic items.
Recycling Awareness Week
Host one week dedicated to recycling awareness, involving:
· Classroom investigations, for example:
o On the importance of recycling
o On why recycling isn't the total solution
· Bin-busters to help direct waste into waste and recycling bins at break and lunch times to show how to separate waste
· Hold a competition for a plastic pollution poster
· Ask students to bring recycling objects from home to turn into an art project and exhibit the creations alongside informational posters about plastic pollution.
· Look at ways of changing the processes (e.g. can we centralize a mustard dispenser instead of sachets?
From Trash to Art
· Set 30 minutes and encourage a class or students to run around campus – or hike/ walk through the village/town and tag as many items as possible using the app Litterati, connecting them to a community that's crowdsource-cleaning the planet, one piece at a time *.
· Encourage students to keep 5-10 pieces of (non-contaminated) trash they would most like to turn into an art project - It should be thoroughly cleaned and disinfected **.
* Use gloves and tongs to avoid touching waste due to COVID-19
** Follow COVID-19 guidelines either leave them for 3-6 days before making the art or wash them in soapy water and leave to air dry
Clean Up
· A class or school could organize a local or social clean up in the woods, in fields and hedges or along a beach or stream. This would be a great way to reach out to the local community and publicize the plastic pollution issue.
· Using the Litterati app and #trashtag hashtag the items can be documented and used for research and reports.
Blind Water Tasting Test
· A group of students can organize a blind water tasting on World Water Day -22nd March - or during another school event, to raise awareness on water and find people's preference between tap water and bottled water. It is always interesting to analyse these results and it may be a great data source for a school article. Usually tap wins!
Workshop on Alternatives to Plastic
· A group of students can take the lead and organize a workshop to show more sustainable products as alternatives to plastic. This will have to be adapted to your circumstances and local products you get in your stores. The students will research which items in paper, wood, metal, or bio-based materials are available to show how to live more sustainably or even zero-waste.