5.1 COMMUNICATION
Each event will be different and requires different considerations. There may be many different sizes and types of events which will play a role in selecting simpler or more complex solutions. For example, a small class event can ask people to bring their own utensils; but a campus event might allow economies of scale to consider renting utensils.
The best approach is to use the creativity and context-specific knowledge from the Eco-Crew and PFC supporters.
It is important to let attendees know why the school is switching from plastics to more sustainable solutions.
This can be done in the following ways:
o Posters explaining facts about:
§ plastic production
§ marine plastic pollution
§ the health effects of plastic on humans
§ social injustice of plastics
§ plastics and climate change
§ a more in-depth understanding of what really happens to recycling/waste
§ The latest news on sustainable materials
o Showing school plastic audit results of how much plastic before the campaign and how each individual's actions are contributing to reducing plastic (or increasing them if they take no action).
o Continually inform attendees in advance this WILL be a waste free event, so remind them to bring their own drinking cups or other eating utensils/items.
5.2 PREPARATION
· Reusable items:
o Suggestions:
§ Consider the cost and time and effort of washing and sorting.
§ Charge an additional fee for single-use items to encourage behaviour change before eliminating them at later events.
§ Give a discounted price for a drink or food item to everyone who brings their own bottle, cutlery or plate. For those who do not they pay the regular price.
§ Offer a deposit fee for reusable items like cups or plates to cover the cost and encourage proper recovery of the items. This helps people who cannot afford their own reusables and those who may have forgotten them.
§ Ask attendees to bring a 'mug on a rope' to wear to refill drinks. Identify water fountains or restrooms sinks to rinse as necessary.
§ Before the event ask families to clean large or medium sized jars to bring the week before so they can be used as drinking glasses at the event.

· Refill Stations
o Are there enough water fountains and/or bottle filling stations?
o Do temporary water tanks need to be brought in as refilling stations?
o Prepare and post maps and directions to refill stations.
o Consider selling reusable bottles at the event (for example, school-branded bottles and other reusable products);
o Consider selling reusable bottles at the cafeteria.
o How about a SodaStream stand for sparkling water for a small fee?
o Make sure there are enough recycling bins and storage;
o Make sure the signage is clear and in several places.
Tips:
1. Exhaust existing supplies first. Or use existing supplies for art projects to raise SUP awareness when the new materials are purchased. Any future supply orders will be reusable.
2. Compare prices of the school cafeteria/on-site food supplier (with whom it is easier to standardize orders) with outside suppliers. If the on-site food supplier sells to on-site events at a big mark-up, is there a supplier that sells at a lower price?
3. Decide on standard serving sizes so that whatever the size of cup/plate someone brings the serving portion is standard. Try to limit serving size choices: for example, espresso, 2dl cup and 5dl cup.
4. Have an Information Stand to highlight Single Use Plastic goals for reduction and elimination near one of the refill stations, for example, to assure foot traffic.
5. Make recycling very easy. Make disposal points clear. Have a "Bin Busters" team to direct people to recycling bins. Set up clear directions and places for dishes, glasses and waste at each table.

TOP TIP: Remember that this could be adopted as a CAS activity if you are currently in the International Baccalaureate programme!
6. DO NOT increase the burden on willing volunteers. For example, washing reusable plates and cutlery is a good idea, but only if you manage to recruit enough volunteers so that each can work a reasonably short shift.
7. Communicate the changes to all food and drink stall coordinators from the beginning so they also avoid single use plastics.
8. Seek to limit increased costs of environmentally friendly supplies to not shock the system.
· Preparing:
o Set waste targets; for example, no PET water bottles.
o How will waste be managed after the event, and by whom?
o What are the different types of waste that will be produced at the event? We recommend you ask for an Event Order for this, so you know what to expect.
o What will be composted, reused, recycled, or general waste?
o Following up on investigations why do recyclers reject recyclables? For example, some recyclers won't accept cardboard paper from pizzas as the oils are too difficult to separate from the pulp.
o Learn about the differences and realities of Bio, Compostable and Recycled plastics. See 5A NEED TO KNOW Biodegradeable Compostable and Recycled Plastics.
o The Ocean Standard has a good guide on Green Washing
· Logistics:
o Identify and map out all the food and drink vendors;
o Identify and map out all recycling and waste management points (and make sure the vendors know about these!).
o Identify volunteers for recycling stations ("Bin Busters") to direct the waste flow (to avoid contaminating general waste and recycling)
o Make sure all volunteers at the event know about the commitment to reducing waste;
o Make sure communication at the event is clear enough so everyone at the event is aware of the commitment.
o Equip volunteers with gloves for sorting garbage.
· Audit:
o The number and size of bins collected on the day (the litre or gallon capacity of the bags used);
o The total quantity of general waste (not recycled or composted) collected (either in numbers of bags or weight);
o The total quantity of recycling collected (either in numbers of bags or weight);
o The total quantity of organic waste (compostable) collected (either in numbers of bags or weight). Watch out for biodegradable plastics!
5.3 WASTE MANAGEMENT
Upload a photo of your set up on the day of your event and share it on social media with the tag #PlasticFreeCampus!
Many visitors will not know how to properly sort their waste. Instead of putting out unguarded bins, direct the waste flow via trained volunteers, a.k.a. "Bin Busters", who will show visitors how to deal with their waste.
Remind them that badly recycled waste can contaminate an entire collection. This is why education and awareness are important. Bin Busters should know the answers to most of these questions as they will have been briefed
Did you know that only two to three of these plastics can be recycled and most often even these are not actually recycled but are incinerated or go to landfill?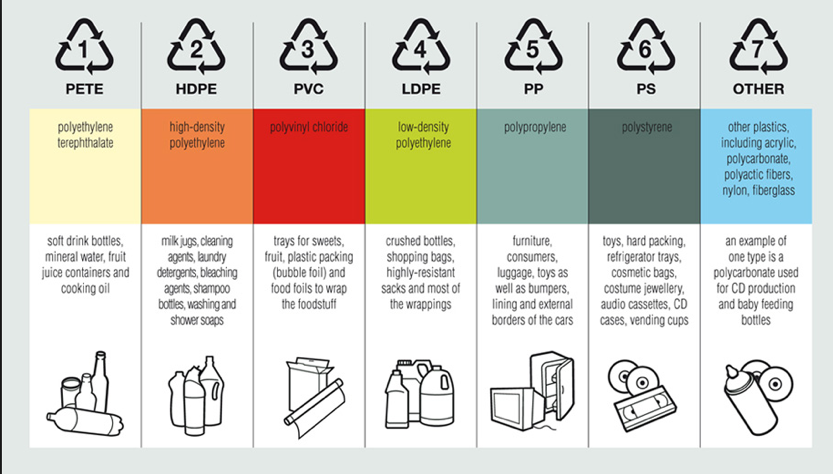 · Prior to the event:
o Give the central waste point a catchy name, like the "EcoPoint".
o Stock the EcoPoint with gloves for sorting and there are enough for all volunteers.
o Prepare pictures for each bin showing the specific products to be sold to show what goes into each bin.
o Volunteers to be briefed (in person and/or a checklist) about what goes into each bin
§ Example: if compostable or biodegradable items are used at the event check if these must be industrially composted and if there is one locally.
o Give food/drink stands information on how waste will be directed to the central waste point – "EcoPoints"
§ Do not place a bin in front of the stall – instead send attendees to the central "EcoPoints"
§ Provide food stalls with a small general waste, compost and mixed recycling bag for "back of house" waste
§ Make sure all stalls understand the distinction between compostable, recyclable and general waste
§ Put signs for attendees explaining what to do with waste
· Day of the event:
o Set up the EcoPoint station with bins for:
§ Glass
§ Aluminium
§ Organic waste – (domestic compostable waste)
§ Commercially compostable waste (in some places and depending on the local waste services provider, organic & commercially compostable waste can be mixed)
§ PET Plastic (or known plastics accepted by the local recycler)
§ General waste
o Put signs on tables/eating areas explaining what to do with waste and if you have a loudspeaker make frequent announcements about the Zero Waste event pointing out the EcoPoints and Bin Busters
o Keep it simple e.g. ""Please bring your trash to the EcoPoint for proper sorting"
o Make sure the EcoPoint is visible and shown on any maps for
o Create ONLY short shifts of approximately two hours to prevent volunteer burnout
o Make sure volunteers are narrating the sorting process to maximise the public education opportunity. It is essential EcoPoint volunteers do this with a smile! It creates goodwill and more support for the initiative. It is a subtle but powerful weapon
§ "So, this plate is compostable and we are going to put it in the compost bin. However, your can will go into the aluminium recycling just over there. Thank you!"
o Thank all attendees and volunteers at the end, letting them know without their efforts this could not have been a success. Bring everyone on board!
· After the event:
o Collect all sustainable and reusable items and clean and store them. Count missing items to ensure stocks are filled.
o Count and weigh the general waste, compost and recycling bins – see the checklist – handheld luggage scales are good for this
o This data will be useful to continue measuring the impact. The same event can be audited year after year.
o What other events can go plastic free? The school fair, school disco, sports events?
5.4 MEASURING IMPACT AND LESSONS LEARNED
How you measure your impact depends on the type of project you've undertaken. See the Getting Started module for some advice on measuring and monitoring results.
Measuring Impact
o Before these changes have been put into place conduct a bin audit for an event. Then compare these audit results with another event after these changes have been implemented.
o Compare the number of Single Use Plastic products bought for previous events with those bought for the events using the new PFC principles.
o Conduct a post-event recycling survey to find out what people have learnt from the Bin Busters. Ask questions like, "Did you recycle anything today that you didn't know you could recycle before?" or "Did you learn something new today about what you can recycle and what you can't?".
Metrics
What was accomplished? What changes were made? How big was the impact? Metrics are the numbers that help define these answers. See the Checklist on how to record these metrics.
Lessons Learned
Would you like to share these with others? Make a short video and share a YouTube link on the Checklist. The best videos are then re-posted on the PFC YouTube channel to share with the PFC community worldwide.