Raising awareness is essential so the school community understands the environmental and health issues of plastic pollution.
Knowing this will make it easier to have their support in making changes.
2.1 COMMUNICATING WITH THE SCHOOL COMMUNITY
Letter to the school community
Once the EcoCrew has completed the campus waste audit, gather the school community to discuss the findings and planned changes to the school and invite new ideas and partners to participate in this transition.
Here are sample letters which can be adapted to the school's needs and sent out with the high-level briefing paper – 1C Introduction – The Challenge.
TOP TIP: Customise these letters to make them relevant to the school community! For example, why take on this challenge? Why is it important for the school? Make it even better by researching and reporting:
What is the waste generation per capita in the local neighbourhood or country? (An online search for 'waste generation per capita for the local region/country might give a starting point)

What are the recycling rates in your region and country?
(An online search for 'recycling rates for the local region/country might give a starting point)

What is the local system for waste manegement? Landfills, incineration?


(Contact the local council or community leaders for further information)

2.2 GUIDED COMMUNITY MEETING
Top Tip: Hold a general meeting to cover the broad topics then move into breakout sessions for smaller discussions where individuals can be engaged in the process.
Once the announcement has been sent to the school community and faculty to tell them about the commitment to a Plastic Free Campus, bring everyone together for a meeting to let them express their ideas and potential concerns.
· Give lots of advance notice and send out a reminder a few days before the event.
· The meeting space should be big enough to accommodate everyone.
· Consider creating break-out sessions so people can have smaller and more purposeful discussions, with the EcoCrew facilitating.
· Meetings can either happen with all the school community and faculty, or with smaller groups, for example, year groups - or even at a classroom level.
At the community meeting – General Meeting
Introduce Plastic Free Campus
o What is it?
o Why is the project being undertaken?
o Share results from the audit.

o What does PFC mean to the school?
o Obtain commitment and engagement from the school community
o What can be realistically achieved by the school over the year ahead?

o Audits at the start of the year and at the end
o Audits of events like sports or social events
o Keeping track of any improvements made

o Breakout Sessions to help set priorities and action plans
Discussion Topics – Breakout Sessions:
o Where to start?
§ Individuals
§ Home
§ Class
§ School
§ Events
§ Community
o What to target?
§ Single-Use Cutlery, Cups and Straws
§ Single-Use Bottles
§ Packaging
§ Other
o What are the different sources of plastic waste on campus?
o How can these be reduced?
§ Reusable water bottles
§ Personal cutlery
§ Other?
Policy Changes

Are there policy changes that should be made?

Waste – if you brought it to school you take it home

Other

Engagement
o Who wants to get involved, join the EcoCrew or volunteer to help?
o Are people interested in hearing about the project as it goes along?
o If so, what is the best way to do this? Email, social media, webpage?
Top Tip: Here are some ideas to make the Community Meeting even better
1. Conduct a multiple-choice quiz:
· What % of teachers bring their own water bottles to school? 0%, 10%, 30% 80%?
· What percentage of students knew the locations of all water stations in the school?
· What percentage of parents responded that they buy plastic packaged products for their children's lunch packs?
· What percentage of students said that they are concerned about plastic pollution?
· Other questions? Design your own quiz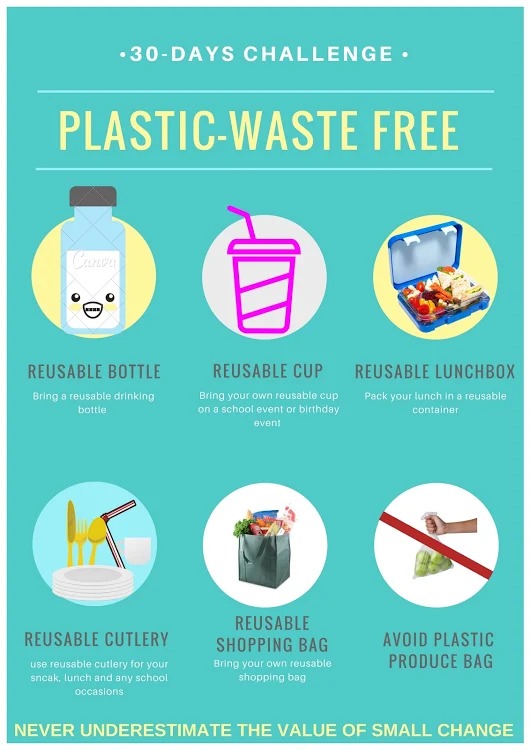 2. Great discussions points - provide printed results of the waste audit and ask these questions:
What do you find most surprising about these results?



Which areas would you most like to see a reduction in plastic or improvement in plastic waste management?



Who in the school community do you think will be most supportive of this change?



Why and how?



What resistance do you anticipate from others in the school community?

Why?



How do you think we
can best build support for reducing plastic waste in our school community?
3. Share the results of the table discussions with the whole group. This can be powerful because each group (students, parents, faculty, administration) get to hear the views and perspectives of the others.


4. Conclude the sessions by thanking everyone and inviting those who are interested in joining the EcoCrew or volunteering to see you. For those who would like to receive regular information either get their contact details or let them know how to subscribe to the social media channel, follow hashtags… etc. Explain that the EcoCrew will now take all their inputs and begin to formulate the project goals, associated strategies and make the action plans to achieve these.
Note: The designated PFC Faculty/Administration lead can invite Parents to follow the project progress online by adding their email addresses in the Users list using the + INVITE A PARENT/GUARDIAN link.
2.3 ROLES OF THE WIDER COMMUNITY IN PFC
Some people in the school may not be able to commit time to the EcoCrew but are still willing to support. This explores the roles others might play and can be useful for when members of the school community ask how they can support PFC. Always be ready to have something they can do!
Teaching faculty
· What role might the teaching faculty play?
· Could they test and provide feedback on plastic-pollution focused lesson plans? Can they promote the EcoCrew and PFC in their classrooms?
Parent Teacher Association
Can they bring a unique stakeholder perspective and contribute to the feasibility of changes proposed by EcoCrew?
·

Are they willing to test out different ideas and relay them to the parent community?

Are they willing to participate in parent workshops?

Are they willing to promote the workshops amongst the parent community
Technical Services
How can they s

upport the EcoCrew?

Can they o

ffer technical expertise and knowledge about what is feasible?
Can they suggest suitable substitutes to plastic items?
Be aware of bio-plastics - see 5A NEED TO KNOW Biodegradable Compostable and Recycled Plastics

Are they esponsible for carrying through changes especially to the "hardware" of waste management on campus?
Students
Who can o

ffer to volunteer support for PFC (projects, events, research, etc.)?

Will they b

ring the PFC messages home to their families to discuss change at a household level?
Parents
Can they s

upport their student practicing PFC principles (what is brought to school, discussion of changes that could be made at home, etc.)?

Can they g

e

t involved with the PTA or start a Parents PFC Support Group?
Have the EcoCrew brainstorm and create their own list with additional ideas. You can share these with the wider PFC Community – post these on the PFC Facebook page.
Many ideas will come from the community meeting. Suggest that the EcoCrew regularly comes back to this list and update it as they progress with the PFC programme.
2.4 PROJECT PLAN
Once consultation with the wider school community has been done it is time to lay out the schedule for the tasks in the other modules and to set targets. See 2D NEED TO KNOW – Strategy for more information how to do this.
Define:
The overall objective – what is to be accomplished?
What are the target dates for the following modules?
3. HOME
4. PROCUREMENT
5. EVENTS
6. COMMUNITY
2.5 MEASURING IMPACT AND LESSONS LEARNED
Estimate how many people your communication has reached:
Letter to the School Community __________________

Letter to Faculty and Administration _______________

Community Meeting ____________________________
Summarise the concerns raised in the Community Meeting Breakouts.
Summarise the new ideas that came out of these meetings.
How have these concerns and new ideas changed the project plan?
What should be done differently if there were a next time?
Communication letters and emails?

Community meeting

Integrating feedback into the project